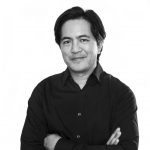 On March 31 at UF's Harn Museum, the annual Edward D. Stone, Jr. Lecture Series featured SWA CEO and DCP Alum Gerdo Aquino. Los Angeles-based SWA is an award-winning global practice operating on the leading edge of landscape architecture, urban design and planning.
"I am really honored to be here at the University of Florida," Aquino said. "I graduated in '94. I've seen a lot and done a lot and to be able to come back here and share some of my experiences with everyone here is really important to me."
Aquino spoke about the future of infrastructure in cities and used the city he lives in, Los Angeles, as an example of the process.
"This notion of infrastructural futures, is really about these four components: business, science/technology, politics and culture," Aquino stated. "And I think that if all of these are in sync and moving at the same time, great things will happen and cities will evolve."
To hear Aquino talk about this topic and others, visit https://mediasite.video.ufl.edu/Mediasite/Play/36f68749c6a64f9ba697aded4e77ffb81d.
The Edward D. Stone, Jr. Lecture Series is held in remembrance of its namesake for his numerous contributions to the fields of landscape architecture and land planning.
Rich Centolella, PLA, FASLA, is Principal at EDSA (the company Stone, Jr. founded with his father) and was on hand to share his thoughts:
"On behalf of my partners at EDSA, I want to start off with thanking everyone at the University of Florida. They've been a gracious host and they've done all the heavy lifting over the years for this lecture series.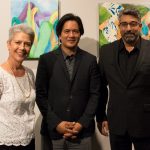 I also want to thank the '60 Friends of Ed Stone' for their financial support and everything they've done over the years to get this series started."
To learn more about the Edward D. Stone, Jr. Lecture Series, visit https://dcp.ufl.edu/landscape/lecture-series/.